INSULADD: the insulating additive for your house paint!

A BRIEF HISTORY: Insulating coatings have been available commercially for well over a decade but have never been marketed directly to the general public.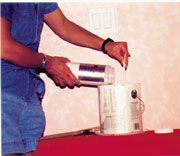 Insulating roof and wall coatings have been used by commercial painting contractors on the facilities of major corporations and manufacturers such as Martin Marietta, IBM, Exxon, The U.S. Air Force, Ford Motor Company, and many, many more. These insulating coatings were applied to save the buildings owners as much as 40% on their heating and cooling costs! We know you'll see similar results.

WHAT IT DOES FOR YOU: INSULADD is an additive that you mix with ordinary paint to achieve remarkable energy efficiency through superior insulation. INSULADD works by blocking heat transfer (heat flow) through the surface that has been painted. The introduction of INSULADD to the general public is due to research done through the NASA technology exchange program in 1996. The INSULADD technology is similar to that which is very successfully used to dissipate heat from the Space Shuttle and other space vehicles upon atmospheric re-entry. The use of INSULADD can drastically reduce the energy consumption and costs required for heating and cooling a home, warehouse, metal building, industrial or commercial structure!

INSULADD is a paint additive that creates a fluid applied insulating coating when added to a regular latex house paint, industrial coating, roof coating, epoxy, urethane, or high temperature paint. INSULADD works by refracting, reflecting, and dissipating radiant heat thus reducing heat build-up and heat transfer through a buildings walls, ceilings, roof, or other coated surface! The performance of INSULADD when mixed with a light colored house paint can be expected to parallel the R-20 (radiant) and R-5 (passive) insulation equivalencies documented by commercially available insulating coatings.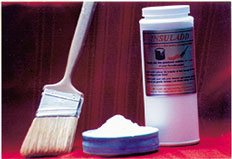 WHAT IT LOOKS LIKE: INSULADD is a very complex blend of selected ceramic micro spheres which have the appearance of a fine powder and adds a very mild textured feel to the paint finish but is not noticeable to the eye. The adhesion, useful service life, coverage or color of your paint will NOT be affected by INSULADD. Just stir it in! If a sprayer is being used for paint application then all screen filters should be removed ( see your owners manual for texture coating instructions).

FEATURES OF INSULADD
Works with all types of paints and coatings
Helps to maintain a more comfortable living environment.
Does not change the coverage rate, application, or adhesion of paint.
Reduces heat flow and cooling loss!

USES FOR INSULADD
Walls, roofs, ceilings, air-conditioning ducts
Steam pipes & fittings
Metal buildings
Cold storage facilities - walk-in coolers & freezers
Mobile & modular homes
To name but a few!