Welcome to our Insuladd product page, the additive that makes your paint insulate. Documented tests show that Insuladd, an additive that creates insulating paint, will save you money with your energy costs.

When mixed with a light colored house paint, two coats of paint containing this additive will provide R-20 (radiant) and R-5 (passive) insulation equivalencies and will pay for itself within a few months with energy savings continuing for years and years.
Here are results of a test in West Valley, California. Look at this graph and follow the numbers. You'll see how you can not only afford to paint on Insuladd, but how Insuladd keeps saving you money day after day, year after year.
Insuladd Energy Savings
grow for you
day after day, year after year!

Comparison of Daily Electrical Consumption of a West Hills, California Home Before and After Being Painted On The Exterior With INSULADDŽ

Total Electrical costs
for April - July 2000
@ 15˘ per KWH: $873.00

Total Electrical costs for April - July 2001
@ 15˘ per KWH: $672.30
A reduction in energy costs
from 2000 to 2001 of 23% !!!
You should consider this typical. Even though we advertise up to 40% reduction in energy bills because is often attainable, I'd like to work with the number above to show that the next time you paint (it's even worth the trip to the paint store you've been putting off), you need to include Insuladd in your budget (as an investment) because before long, Insuladd will be adding to your budget through energy savings.
Insuladd paint additive costs about $15 and you add it to any gallon of indoor/outdoor paint (Sherwin-Williams approved!) and this will cover about 200 Sq. Ft. (FYI). The above test example represents a 23% savings which works out to about $200.00. At $15.00 per gallon, you could buy enough Insuladd for 13 gallons of paint (or 2,600 sq ft. worth) and pay for it from energy savings within a few short months.

What about the next four months after you've paid for your investment? It's bonus time. And the next four months. And the next four months after that. And you keep on saving year after year. Two coats of paint is all it takes to start saving energy and money this winter and for years to come.

One last point before I get off the money advantage. This easy home improvement pays for itself immediately in comfort; you can feel it. Consider for a moment if you you have a $50 month energy bill. A 23% reduction in your energy bill would pay you back $11.50 the very first month toward the cost of this money saving paint additive. Not many products can do that. Pay for themselves so quickly.
Insuladd works in two ways.
Please see the graph below.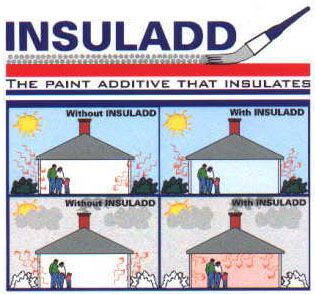 Those little red lines represent heat.
Insuladd works with both old and new homes or buildings. INSULADD reduces the insulative demands placed on conventional insulation which may have been poorly installed or have deteriorated due to dampness or age. The ability of INSULADD to be easily and inexpensively applied to walls and ceilings in the form of a paint additive to create a thermal barrier is a superior method for the homeowner to utilize in order to maximize the energy efficiency of a home or building.

Upgrading the inner - wall or ceiling insulation in older or poorly insulated buildings can be an expensive, sometimes impossible task and one which may be too expensive to consider. Now, you can paint the insulation on. Two coats of insulating paint, inside and out, will go a long way in stopping drafts while saving you money.

In new construction, the use of insuladd sprayed on in addition to "conventional insulation" will add another inexpensive layer of protection from the elements and lower your energy costs even further for years to come.
Here are a few good
reasons to try Insuladd
Adds a high insulating value to all paint types.
Safe & non-toxic.
Works with paint on roofs, walls, and ceilings.
Formulated for interior and exterior use.
Effective in hot or cold climates.
Reduces heating and cooling demands.
Simply mix into your paint and apply as usual.
Ideal for all residential and commercial painting applications.
Saves you money by reducing your heating and cooling demands.


That has been the 50 cent tour. There is quite a bit of supporting information on other pages and the links follow. If you would like to place an order, we offer a secure server for the transaction and accept all major credit cards and Paypal. Your order will usually arrive within a week if we happen to be out of stock (there is high demand). Please follow the links of your interest.
We hope we can be of service soon.

Go to our secure order form.
Find out how insulation works
Find out why Insuladd works
See military and other test data
What is Insuladd exactly
Insuladd FAQ
Go to the Insuladd Home Page
Go to the Symbiotic Systems, Inc. Home Page